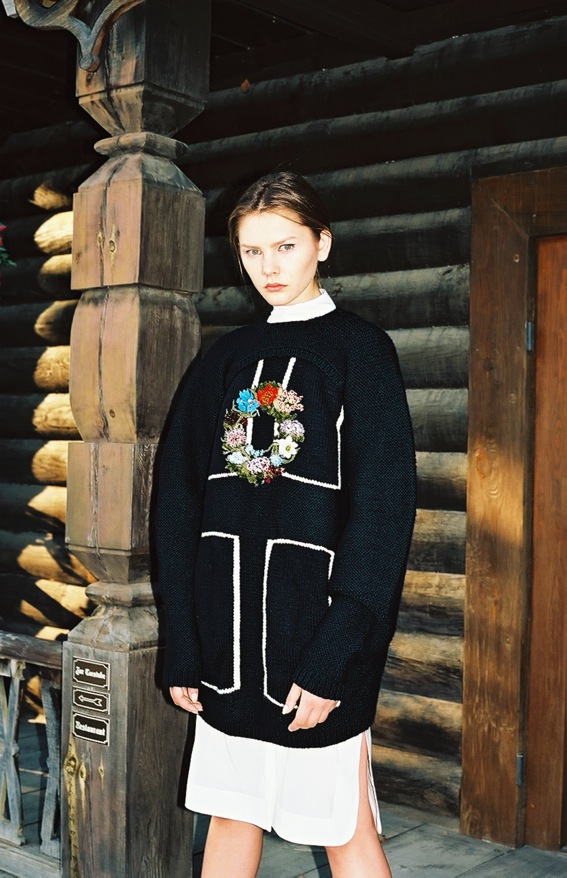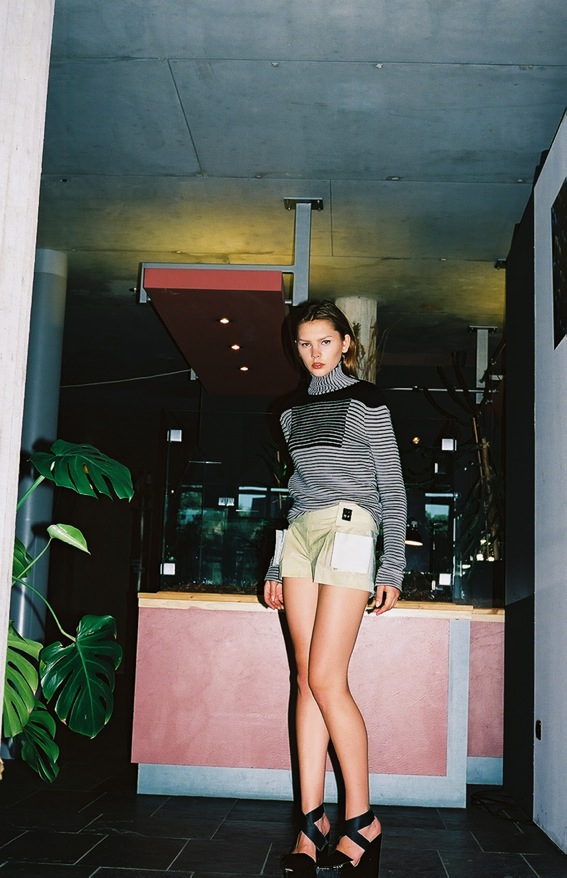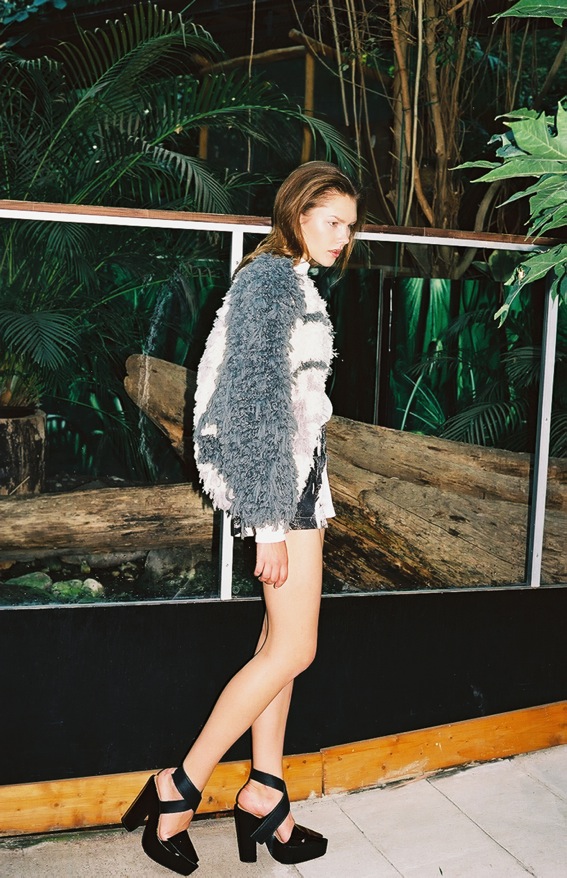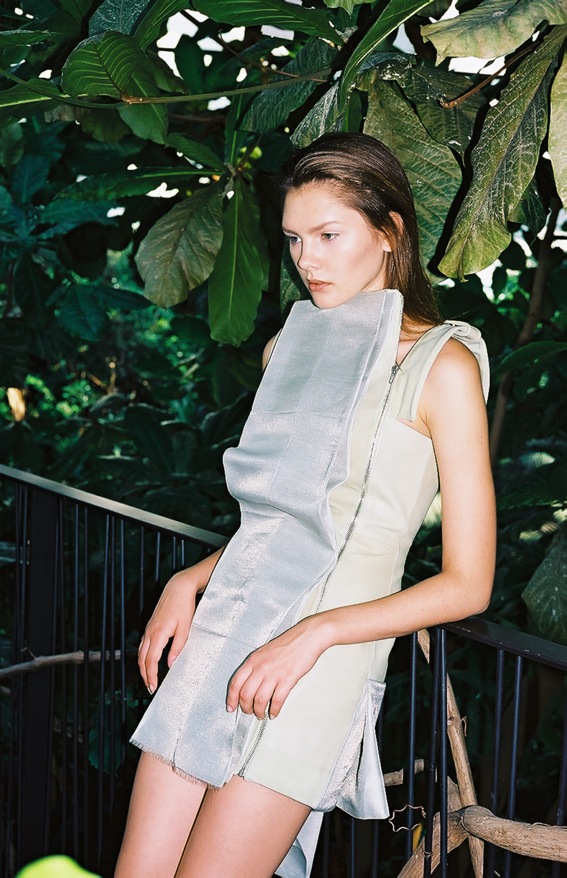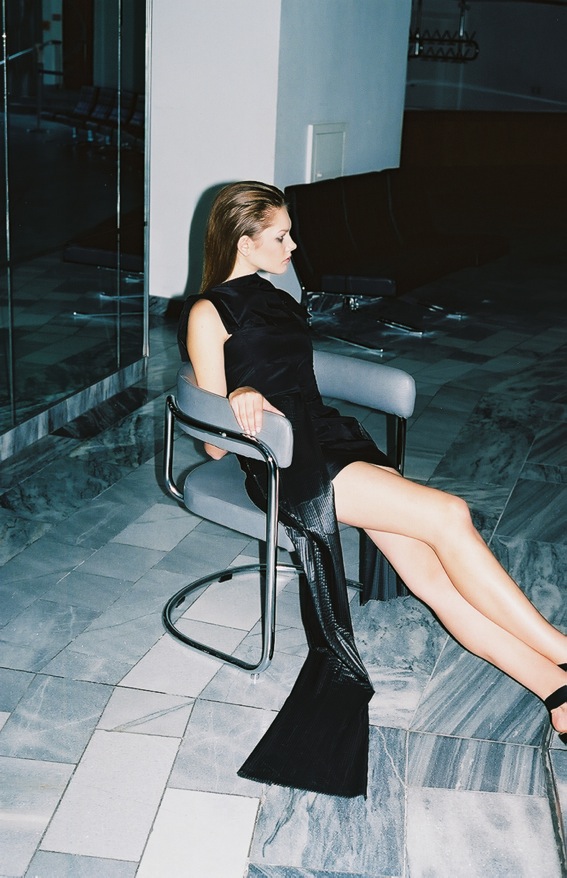 i think it's time for you to come back to earth // 2012 // Diplomarbeit Modedesign
The collection is built up following a storyline of a roadtrip from home to universe. It deals with the emotions of homesickness and wanderlust and the meaning of geographical places. 
The collection starts with the question how much our perception of feeling home or like a stranger is interwoven with places. The focus lies within the controversial feelings of security of places we call home and the strive after freedom of being outside your comfort zone exploring the new.
Photographs by artists such as Lewis Baltz, Stephen Shore or Robert Frank, and movies such as Jim Jarmusch`s "Stranger than paradise" and roadmovies directed by Wim Wenders serve as the inspiration.    The encounter with different places influences us. Travelling on a road trip means constantly moving and receiving new impressions. The collection reflects this overflow in being consciously not homogenous. Every silhouette stands for itself as a chapter of the journey. 
It`s about the Biedermeier sense that engages itself in a concentration within your own four walls, in contrast to the urge to get out and see the world. The collection transfers these moods into a visual roadtrip. In the course of that a satellite image of an geographical area transforms into a screen print on silk, geometric patterns of buildings inspire reliefed knitwear or the way maps are folded serve as a pleating technique. It`s an interplay between domestic life, using domestic techniques like knitting, embroidery, tapestry work and the life outside with the longing to escape traditions through futurism, using technical textiles and traces of outdoorclothing or technical fastenings.  The impressions becoming diffuse during an intense journey are interpreted in garments that feel familiar and strange at the same time.
The first and the last look function as the collection`s key looks. The first silhouette shows the geometric pattern of a door and a typically german door wreath. It`s a hand- knitted bold sweater with the shape of a cocoon. Just as the last outfit has this cocoon-like egg shaped cut inpired by the sixties space age, made out of technical softshell embroidered with the blue flower, the symbol of the romanticism for the eternal wanderings.
Betreut von: Prof. Valeska Schmidt-Thomsen // Prof. Dr. Ingeborg Harms // Stefan Hipp
// fotos: Rosa Rendl
// model: Kristina (Modelwerk)
// hair/ make-up: Nele Merlin Hagel