COREBODYREFORM  // SS '18  // Entwurfsprojekt ab 6. Semester + Anpassungsstudium

Das Hauptstudiumsprojekt CoreBodyReform entstand in Zusammenarbeit mit der Wolford AG im Austausch in Berlin und in Bregenz. Acht Studierende haben eine Kollektion von drei Outfits entworfen und die dazugehörigen Prototypen selbst entwickelt. Die jeweils überzeugendsten Entwürfe wurden daraufhin gemeinsam mit Wolford vor Ort in Bregenz realisiert. Als hochtechnologische, internationale Strickwarenhersteller bietet die Wolford AG nicht nur den inhaltlichen und formellen Rahmen für die Entwürfe der drei Looks. Auch die ursprüngliche Positionierung / Wahrnehmung der Marke und demographische Veränderungen des Konsumenten wurden von den Studierenden neu gedacht und erarbeitet. Ziel der inhaltlichen Konzeptuierung dieses Entwurfsprojektes war eine Neudefinierung der Marke Wolford durch zeitgenössischen Themen wie kulturelle Aneignung, Frauenbild, Körperideale, Genderfragen oder Nachhaltigkeit. Den Start des Projektes bildete eine technische Einführung in die Technologie vor Ort, wo die Studierenden das Archiv der Firma zur Recherche besuchten. Konzeption und Entwicklung der Kollektionen wird in Berlin an der UdK stattfinden.  Zum Abschluss der Entwicklungsphase suchte ein Komitee von Wolford zusammen mit den Lehrenden der UdK je den stärksten und überzeugendsten Entwurf jedes Studierenden aus, welcher während einem einwöchigen Workshop in der Entwicklungsabteilung der Firma erarbeitet und finalisiert wurde. Während des Semesters fand zusätzlich ein Videoworkshop statt, in dem eine Videoarbeit entstand, in der die gesamte Kollektion und deren Inhalt präsentiert wird.
Zur Schau18 hat die Wolford AG ein Preis von 1000€ für ein professionelles Fotoshooting für den besten Entwurf an die Arbeit von Paula Keilholz vergeben.
Gratulation!
Lehrende: Gast-Prof. Carolin Lerch  //  KM Evelyn Sitter  // Stefan Hipp // Dorothée Warning // Michiel Helbig

//Video + Stills: Paula Keilholz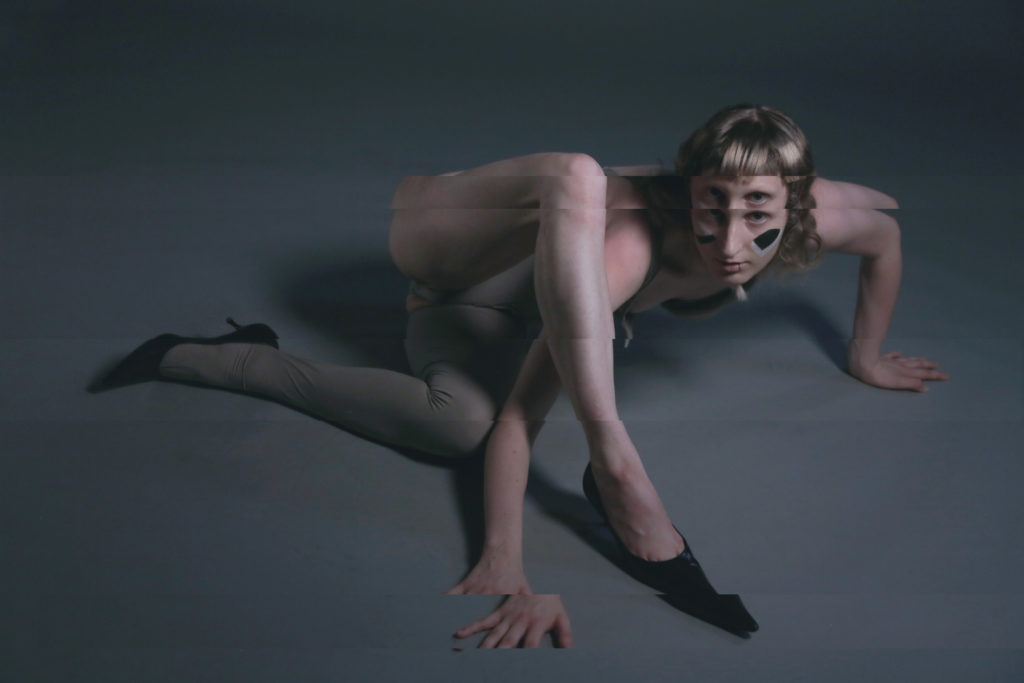 CoreBodyReform by Paula Keilholz
When I started to research about Wolford, I received the impression of products with persuasive quality but a marketing concept which is hardly custom-tailored.
The omnipresent body type in the the brand communication seems to be dehumanized; through exaggeration of allegedly ideal features like long legs, small waist, even skin, the models' bodies become neutral display dummies. They fail to convey one of the key advantages of the brand's products, which is to fit different and individual bodies (think: customized shapewear etc.) At that point I started to think: Maybe the supposed inadequacy of a not custom- designed marketing concept could also be an advantage.1
Never before companies knew their clients so well. By revealing our data we get manipulated, targeted with customized advertisement and constantly surrounded by individualized content. Phenomena like China's social credit system, implemented earlier this year,2 are drawing attention to ethical questions surrounding the processing and use of personal data. People – customers – are becoming more and more sceptical. In light of such developments, a radically non-customized advertisement strategy, and special products which reflect this idea, will appease customers' doubts and render the shopping experience one of safety and reassurance. My design suggestion is one of ,,Randomized Marketings''; the strategy of non- customization and concealment of identity is implemented on the levels of inspirations, design, and presentation.
Algorithms, which are taking evermore design functions and are replacing the potentially irrational and subjective designer, are used and questioned in the design process. My designs were created by principles of randomness, by uncontrollability and mistakes. My silhouettes for example were created through mashing up and corroding Wolford advertising picture codes with quotations of Walter Benjamin and Vilém Flusser on photography.My designs are not only created by digital glitches but they are also bugging back in their presentation, creating mistakes. Makeup and styling aim to lower the facial recognition score. The model is now radically deindividualized; customers may aim for the same look.
I'm fascinated by the point of intersection of actual reality and online reality, and the impact and the influences the two have on each other. The objective of my design process is to respect both. My silhouettes should seem like they were generated by a defective programlike they don't fit in our reality. At the same time, they may be used in physical reality to obscure ourconstantly surveiled bodies and personal data.
Fashion & Concept: Paula Keilholz // @linkzupaula, Video shot by Almog Sella & Itamar Toren // @true.twins  // www.true-twins.com, Video: Hannah Greifenstein // @zionkoenig, Sound by Benjamin Flesser // @benjaminflesser, Model: Laura Talkenberg // @scrmch_aaoue, H&M by CarO Greifenstein // @care.0
The collection criticizes current definitions of beauty respectively body ideals in modern times. While the ideal human was manifested in marble statues in the Renaissance for example, it is today manifested in media and advertisement. These images of a "perfect body" mostly don't even show real persons. Photographs are manipulated, portrayal of virtual humans are oversexualized and the real person has to deal with the comparison.
As a way to support and define body form I chose the lines that define dimensions and proportions of a virtual body, animated in virtual arts programs, to portray the measuring of a "new created body".
The collection includes underwear, bodies, tights and gloves, being fragmentary pieces that cover the body like a second skin. The layer overhead the lines shows the process of the programmed "object" becoming a sculptural body. These pieces are made of plaster moldings that cast body pieces of a real person.
The chosen body is about to be created. In the video every piece appears on its own until the new body image is composed as a whole.
Fashion, Concept & Video: Katharina Achterkamp, Camera: Nastasja Keller, Model: Maya Winter
_
//Video + Stills: Daniela Harsch
Softness Space by Daniela Harsch
Die Kollektion befasst sich mit dem Thema der Selbstakzeptanz und hinterfragt die Bedeutung von Männlichkeit. Männer sind heutzutage genauso verletzlich, stehen unter Druck und sind ebenso anfällig für kommerzielle und mentale Manipulation wie Frauen. Als weiblich geltende Eigenschaften wie Sensibilität, Mitfühlvermögen und Sanftheit, sind immernoch verpönt. Obwohl nicht nur Frauen diese Eigenschaften haben. Männer, die über diese Charakterzüge verfügen, werden häufig zum Gespött, sie werden lächerlich gemacht und als Schwächlinge angesehen. Es stellt sich die Frage warum diese sogenannten weiblichen Eigenschaften bei Männern als etwas Schlechtes gesehen werden. Traditionelle Männlichkeit wird Jungs überall eingeimpft, sie bekommen das nicht mal mit. Ihnen wird beigebracht stark zu sein und nicht zu weinen. Stark zu sein wird verstanden als wasserdichtes Gefäß zu fungieren, sowohl körperlich als auch emotional. Der Vorhang zieht sich als Metapher für die Sanftheit und zugleich für die Art und Weise wie wir uns nach außen hin präsentieren durch die gesamte Kollektion. Er bietet einen geschützten Raum in dem man selbst entscheiden kann wie viel man von sich zeigen möchte und was verdeckt bleibt.
Fashion & Concept: Daniela Harsch, Kamera: Alex Mader, Model Saeed Oulali
_
//Video + Stills: Sara Smed
tubulatus by Sara Smed
"The starting point for this concept has been the "cradle to cradle" innovation project that Wolford has been working on in the development department over the last years. The new products are supposed to be 100% compostable on all aspects of the production, and therefore a part of the circular biological nutrient system – The premise for the "cradle to cradle" philosophy. This conceptual approach has been to focus on the "post user phase" of the product or the decomposing phase to be specific.
By researching on a variety of different decomposing processes in organic matter and then transferring these aesthetics to knitted structures, this project is a reflection on the circular nutrients system of nature and the occurring of new life after another's death. The Wolford bestseller "Fatal Dress" forms the basis for three different tubular "decomposing" outfits.
Being inspired by the very simple though multifunctional design of the "Fatal Dress", it's stretch-ability and in particular the name of this tubular knitted garment, this project is called Tubulatus and suggests an afterlife of the Wolford fatal tube.
The seamless tube, as a closed form, operates as a symbol for the circular "C2C" concept and the decomposing aesthetics works as an exaggeration of the decomposing process that the new Wolford products are suppose to go through in the last phase of the transformation back to reusable biological nutrients.
There are somehow three parts in this project. One part is the three mainly knitted outfits with their "decomposing optic" which occur on a contortionist in the film. Another part is the design realised at Wolford, which is an experiment to develop a "compost worm" knit-structure and show the compost-ability of the future materials at Wolford. The last part is the film which, through the use of different postproduction effects, changes the surface of the outfits and transform them into something out of this world. A microscopic research and suggestion on afterlife one could say."
Fashion, Concept & Video: Sara Smed // JoAnne Kowalski (Co-Director), Performer: Kristina Kurapkaityte, DOP & Co-Editing: Dickon Bevan
_
//Video + Stills: Jasmin Erb

Boys will be boys by Jasmin Erb
COREBODYREFORM — A COLLABORATION OF STUDENTS FROM THE UNIVERSITY OF THE ARTS, BERLIN AND WOLFORD AG. THE STUDENTS DEVELOPED A COLLECTION OF 3 OUTFITS BY DEALING WITH TOPICS LIKE THE PREVAILING IMAGE OF WOMEN, BODY IDEALS, GENDER ISSUES AND SUSTAINABILITY, WHILE WOLFORD, THE HI-TECH AND INTERNATIONAL KNITWEAR MANUFACTURERS, ASSISTED THEM IN THE MAKING PROCESS AND REALIZED ONE OF THEIR DESIGNS. JASMIN ERB, ONE OF THE PARTICIPANTS OF COREBODYREFORM, MADE IT HER MISSION TO SHOW THE MAN FROM HIS SENSUAL SIDE, AS SHE HAS NOTICED AN IMBALANCE BETWEEN THE SEXES. SINCE FEMININE CHARACTERISTICS ARE STILL CONSIDERED WEAK AND NOT DESIRABLE FOR THE HETEROSEXUAL CIS MAN, SHE DESIGNED HER COLLECTION BY DRAPING WHICH IS INTENDED TO HIGHLIGHT THE SENSUAL PARTS OF THE MALE BODY AND USED UNDERWEAR TYPICAL PROCESSING AND DETAILS WITHOUT RELYING ON FEMININE LINGERIE. SHE IMITATED THE COLLAGED AND SKETCHY AESTHETICS OF HER SKETCHBOOK AND TRANSFERRED THEM TO THE GARMENTS THROUGH EMBROIDERY AND WOVEN PIECES. WOLFORD MANUFACTURED A BODY STOCKING FOR MEN OUT OF LAYERED NET KNIT WHICH IS WORN UNDER THE JERSEY AND TULLE DESIGNS. `BOYS WILL BE BOYS' DESCRIBES THE UTOPIA IN WHICH THE SENSUALITY OF THE MAN CAN EXIST WITHOUT MAKING USE OF THE PRESENT STEREOTYPICAL CONCEPT OF MASCULINITY
Fashion, Concept, Video + Make-Up: Jasmin Erb, Model: Marlon Birko
_
//Video + Stills: Ilona Karácsony

Ideal by Ilona Karácsony
Today's ideal-typical female body as presented on social media shows funny, but not so surprising similarities with prehistoric fertility goddess figures. A luscious figure is associated with female liberation and success of feminist efforts against unhealthy body ideals, hetero-male pleasure, and the reproductive functionality of the female body alike. As such, it is marketed aggressively.
A fertile, sexually attractive (functional) female body is defined by a certain number of lumps protruding in specific places (and the absence of lumps in other places). Are they needed in the exact same number and position?
The project "Ideal" is aimed to investigate this question from a critical point of view. Through the design process alternative body shapes both in archaic representations and in contemporary gender expressions were researched. An interpretation of the results led to anti-natural body extensions made to break normative ideals.
A video based on the project is playing on possible roles of a sexualised body in several ages from archaic times through the Weimar Republic to new gender radicalism.
Fashion & Concept: Ilona Karácsony, Camera: Joze Basa, Model: Laura Talkenberg, Cut: Júlia Szederkényi
_
//Video + Stills: Marlene Haase

(€ ¥ $ ฿ ₣ ₪ ₱ Ω  ₩ Zł)  by Marlene Haase
For my collection I dealt with the current topic of the gender pay gap in the business sector.
I was inspired by Wolfords current target group, the self-conscious Businesswomen. Who is she and what are her topics in todays world affairs? In my research I encountered the gender pay gap, which is a major issue especially in the financial sector. For the collection I then decided to concentrate on office attire inspired by brokers. The silhouettes of the women collection reflect my research and pick up the idea of imbalance by exploring asymmetrical shapes. The print is inspired by work sheets and stock exchange charts that remind on pin stripes and checked shirts.
Fashion & Concept: Marlene Haase, Schnitt: Marino Peters, Models: Carolin Greifenstein // Fabian Senk //Mina Bonakdar // Ayosha Kortlang // Philip Gultschewski // Joe
_
//Video + Stills: Laura Lang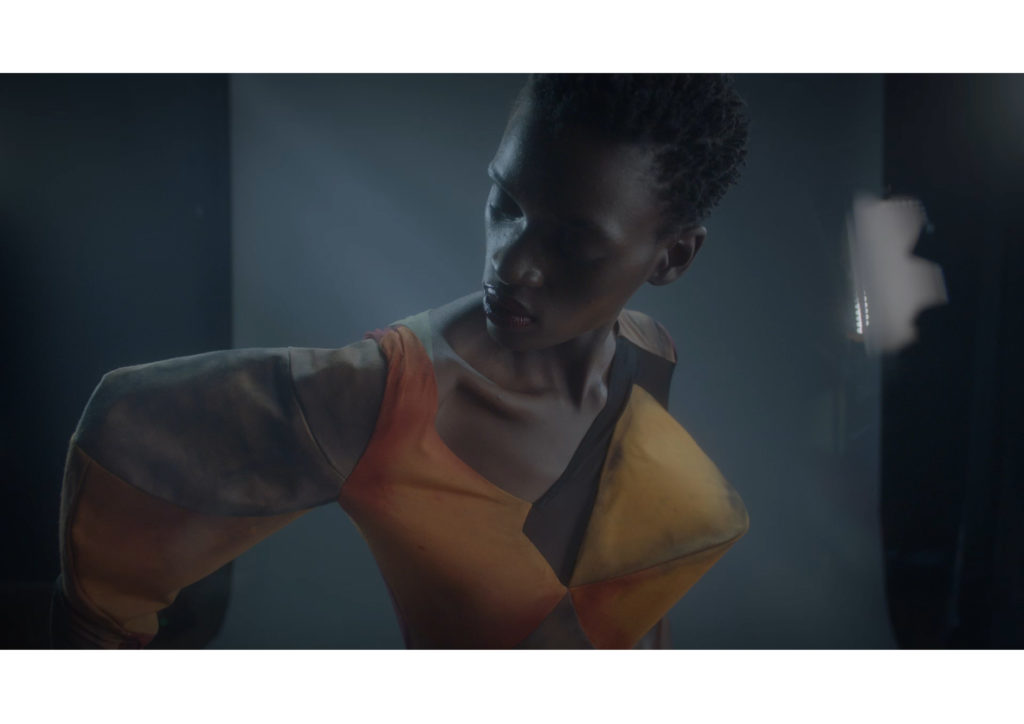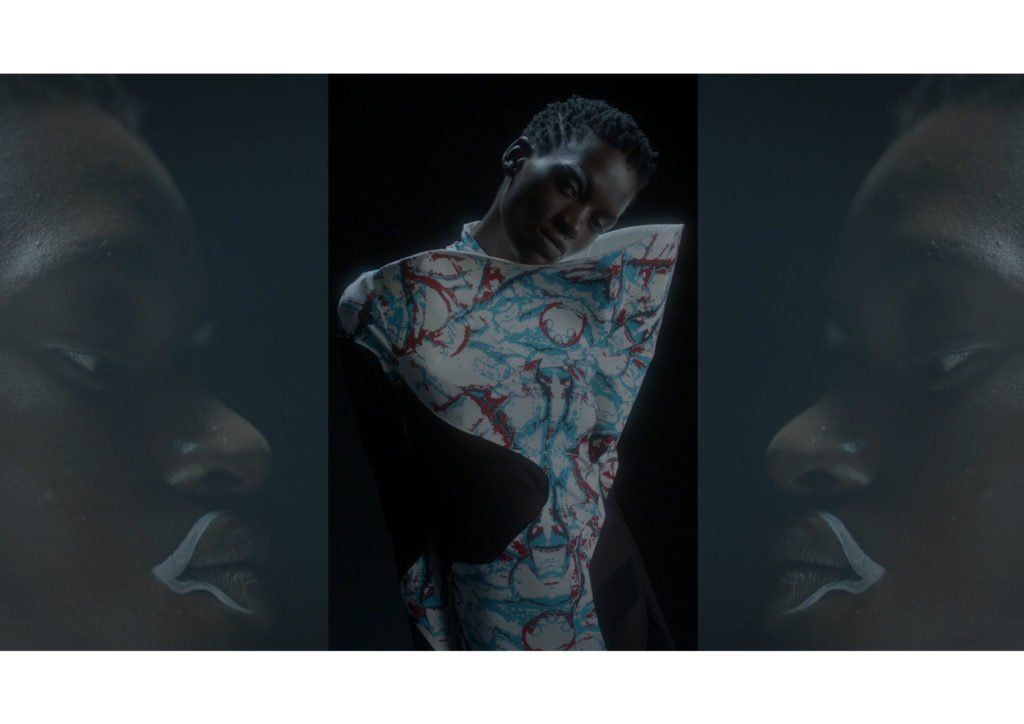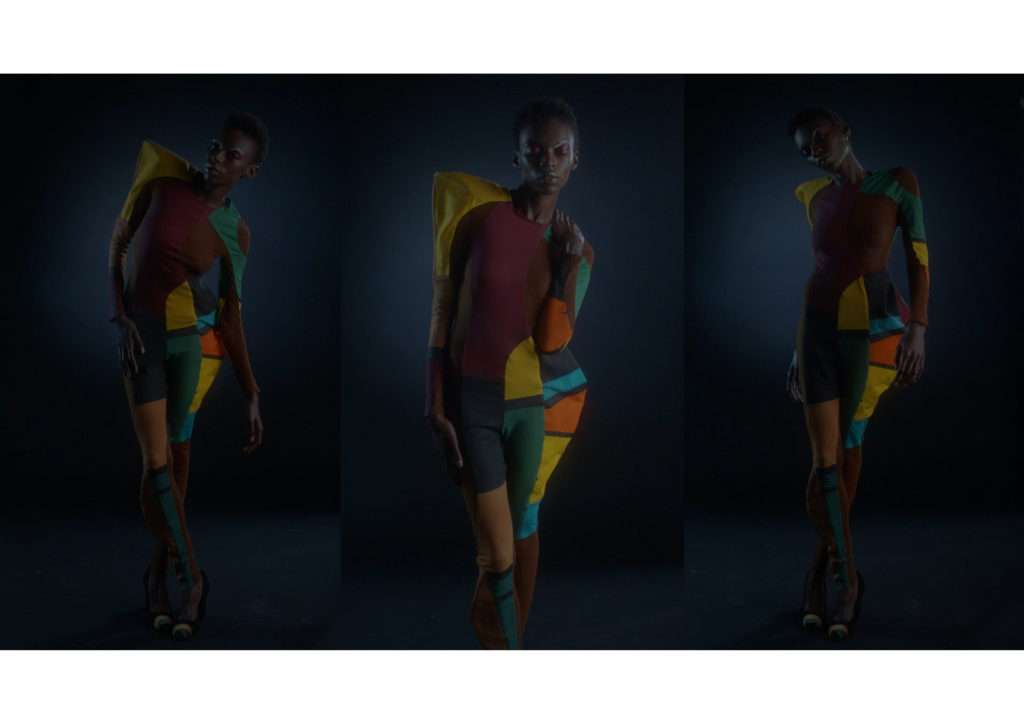 Imperfection by Laura Lang
Die Anregung für meine Entwürfe stammen aus der derzeitigen medialen Präsenz von Egon Schiele dessen 100 jähriger Todestag dieses Jahr gefeiert wird. Die markantesten Merkmale dieses Künstlers sind für mich die schonungslose Darstellung des menschlichen Körpers in seiner Unvollkommenheit. Mit Kennzeichen wie Kantigkeit, hageren Körperteilen oder auch Fülle und ungeschönten Flächigkeiten.
Im Gegensatz dazu steht für mich das derzeitige Bild der Frau in der Werbung, mit ihrer melklos geschönten Oberfläche und genormten Proportionen.
Um dies aufzubrechen, habe ich bei meinen Entwürfen versucht die sogenannten weiblichen "Problemzonen" zu überzeichnen und dabei auch wieder von Schiele die verdrehten Körperpositionen, die bei mir die Assoziation von Scham auslösen zu verwenden. Die transparenten Anteilen stehen für die Technik Schiefes, Hintergrund und Haut verschmelzen zu lassen und den Kontrastpunkt über die kolorierte Kleidung zu setzen.
Für mich steht im Mittelpunkt der Arbeit die Darstellung des weiblichen Körpers mit all seiner Natürlichkeit, Imperfektion und seiner Einzigartigkeit, die durch den Kontrast mit der Farbe oder der Verhüllung betont oder sogar überzeichnet werden soll.
Ich erhoffe mir durch die Technik des Stricks von Wolford eine noch stärkere Betonung der Körperlichkeit meiner Entwürfe die meine Anlehnung an Schiele unterstreichen könnte.
Credits: tba
_
//Video: Louis A. Krüger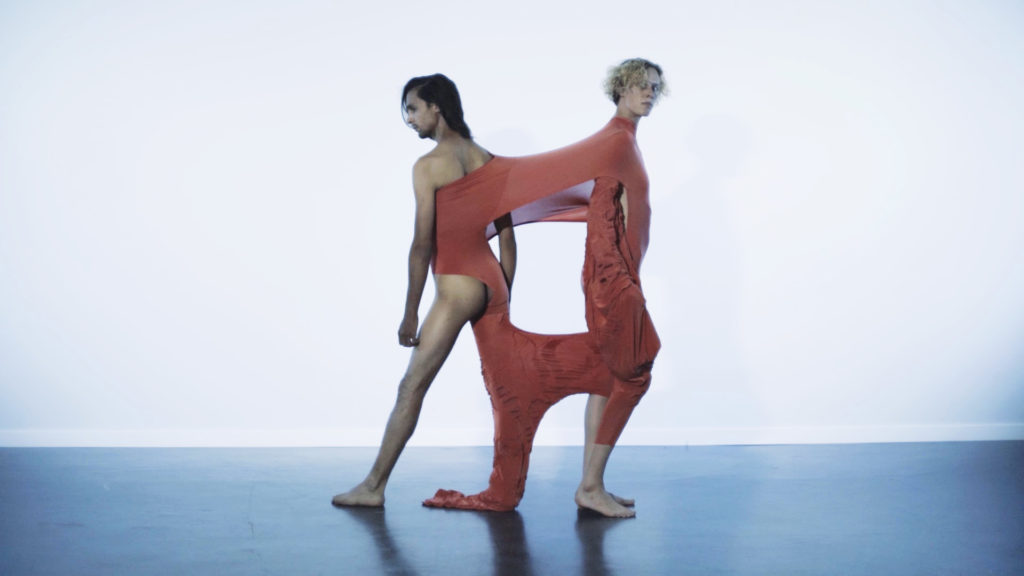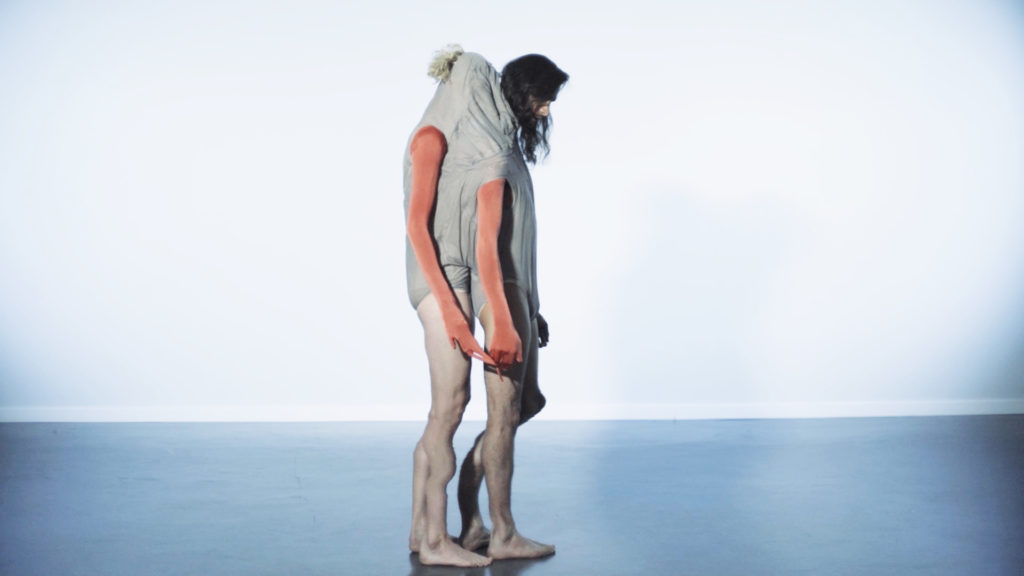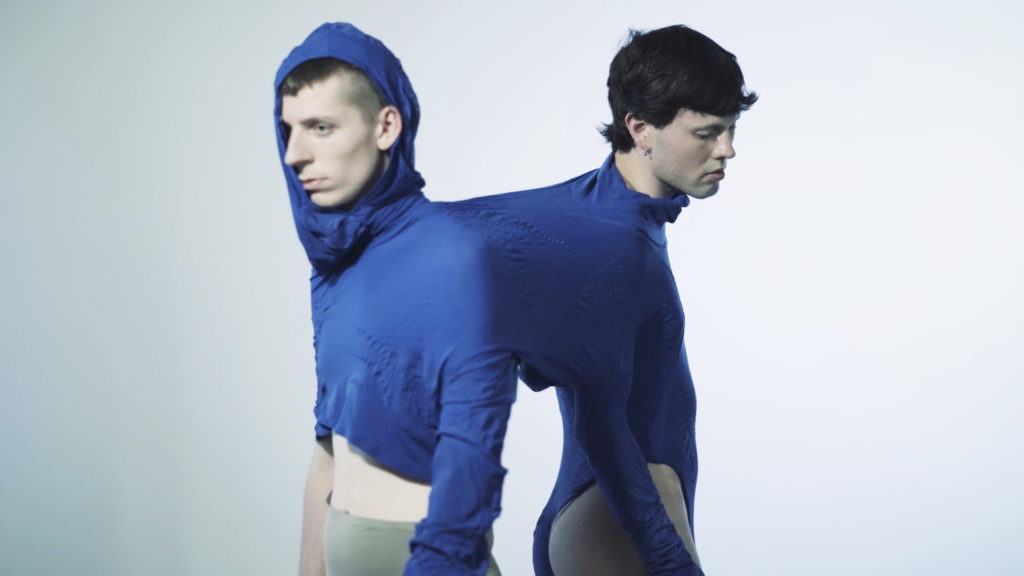 Delation by Louis A. Krüger
Delation investigates the terms of gender, bodies and space as a instalation. Queerness as a concept of uncertanty, leaving the binary concept in performing fashion/gender and the constant changing indentity with body norms are focused in the design. Is fashion design excluding queer therorie or are these two practices encouraging eachother? How can the term of corporeality be expand and transformed without being stuck in the consuming state of fashion machinery?
The silouetts are conceved to include more than one body. The design renaunces readable references of binary clothing.
Fashion & Concept: Louis A. Krüger, Video: Lasse Liebelt, Sound: Jonas Grawert, Models: Jolle // Marius Kurz// Frederik Britzlmaier // Jonas