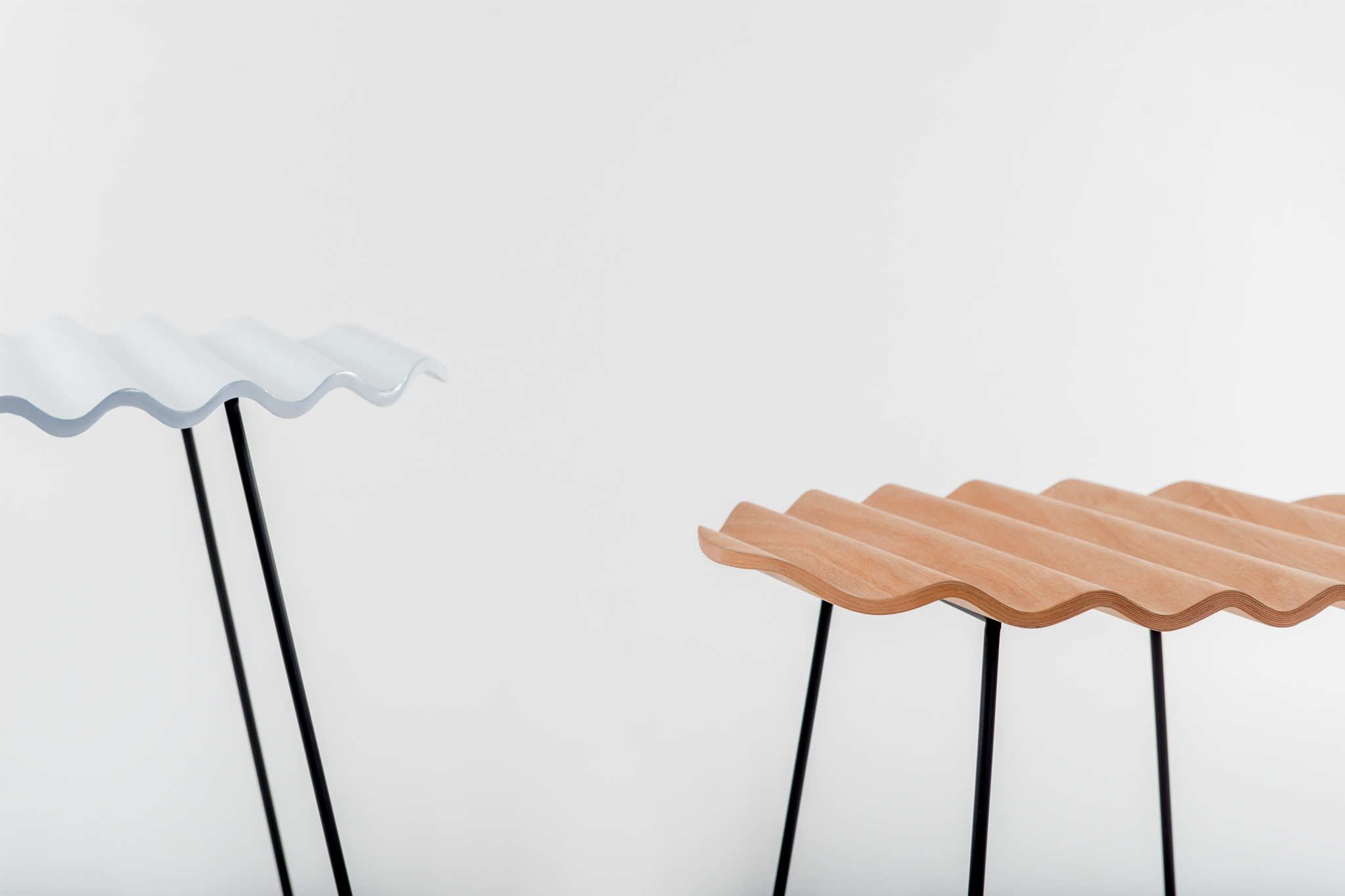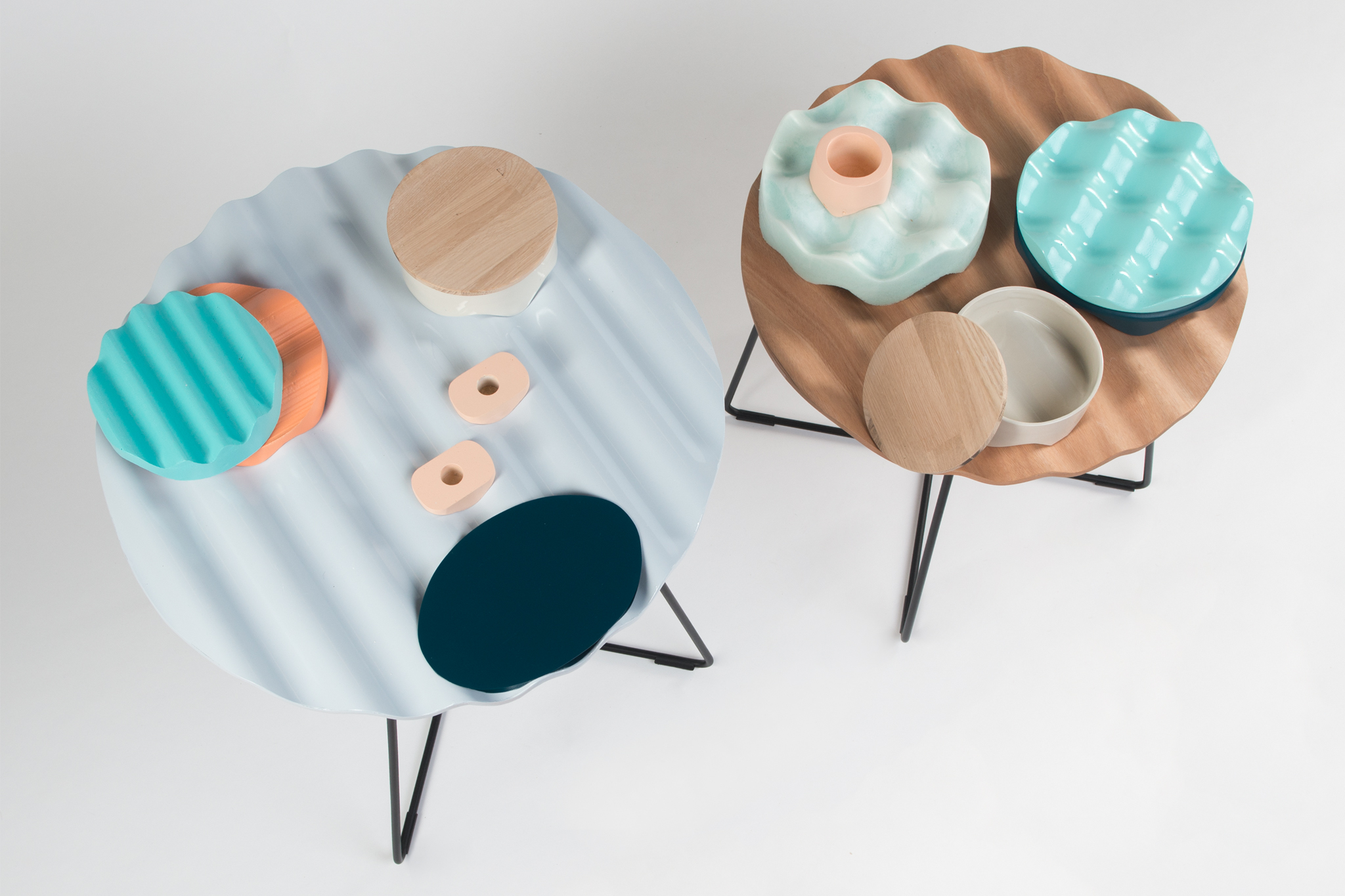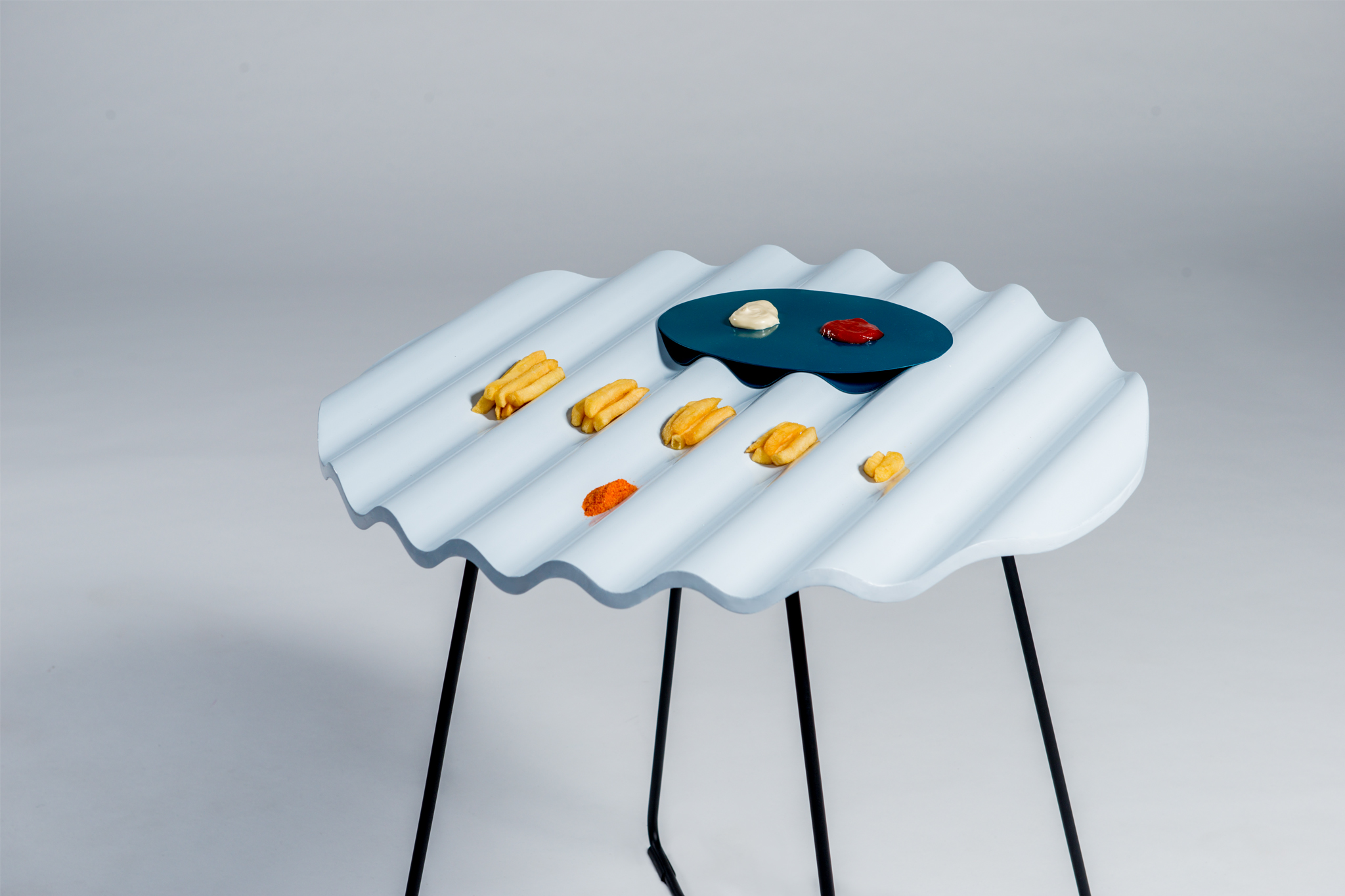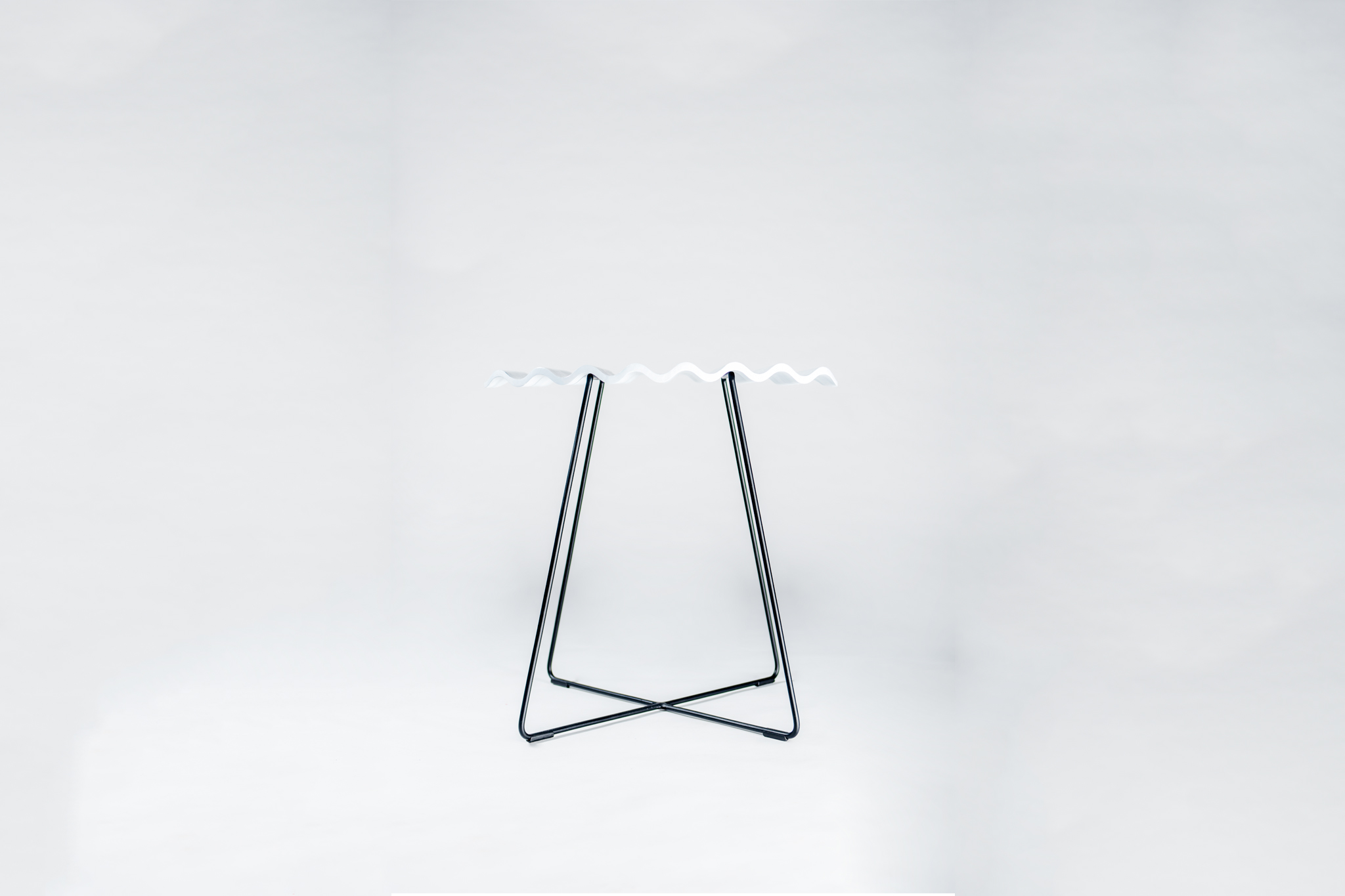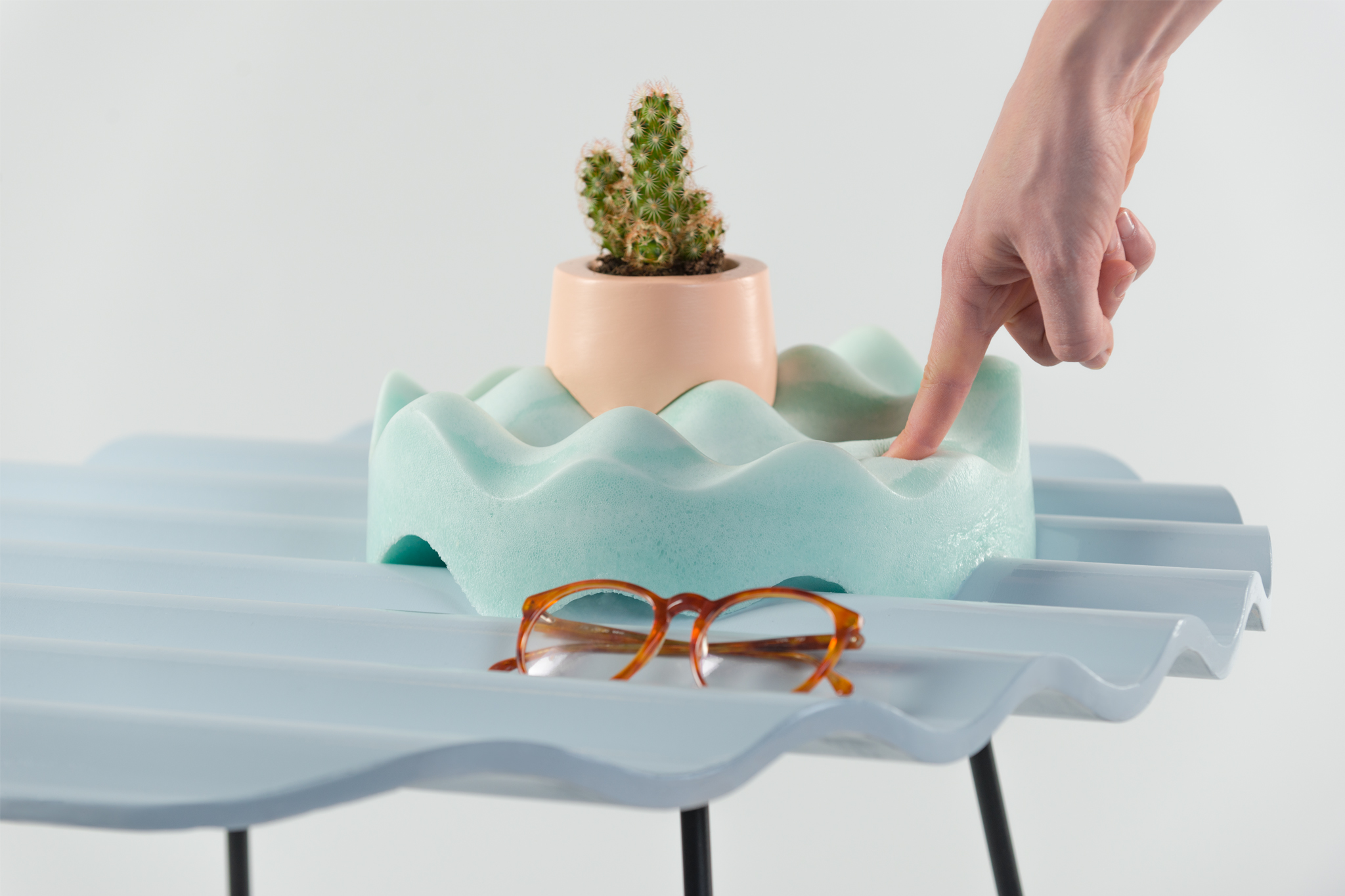 Sinus
It can be found where construction has to be cheap and simple.Corrugated sheet metal. Inspired by the Slums we developed a fascination for the material and its shape.
SINUS is dedicated to this shape and also reinterprets the use of tables in a playful manner. SINUS is not just an ordinary table! It is a set of pieces that can be used playfully to organize and structure a space. The complementary parts give possibilities and restrictions in order to explore new ways of usage. Looking at tables from a different perspective, breaking the rules to make space for new ideas.
We love things that fit together. Ever since we put, set, turn, combine, place and sort the things that surround us. SINUS is dedicated to that pleasure.
Two tables, one made of wood and the other made from metal have sinus shaped table tops. They are displayed with complementary forms that fit into each other. Here wood meets metal meets porcelain meets foam meets plastic. The player of the puzzle is invited to assemble the pieces to his needs and taste. The inspiration for SINUS derives from corrugated metal sheets which are used for construction. We first saw pictures from neighborhoods in Nairobi being build almost exclusively by this sheets.
We where fascinated by the simple geometry and decided to play with it. The result was a wooden table which is pressed with CNC milled molds using the technic of lamination. The metal version uses ordinary corrugated metal sheets which are welded. By attaching two sheets in a sandwich technic we gain stability. Both tables as well as the frames come in different heights for different scenarios of use.
We required to create a frame that needs a minimum of material so that the main focus lies on the top and the exposed objects. Still in the search to create a feeling of reliability we decided for a round metal profile. A decent black emphasizes this impression. Top and frame can be placed into each other with no need for additional fixing; geometry holds it all. Using porcelain, metal, wood and stone we took traditional materials to create a homie feeling. Mixing it with resin and foam we create a mix of objects that merge together but can still function on their own.
Featuring light and bright colors the composition presents freshness and vitality. In contrast with the strong and full tones it creates a center of attention. Whereas the wooden table top and porcelain vessels reveal pure nude material.