Living Rooms | 2020 | Ba Modedesign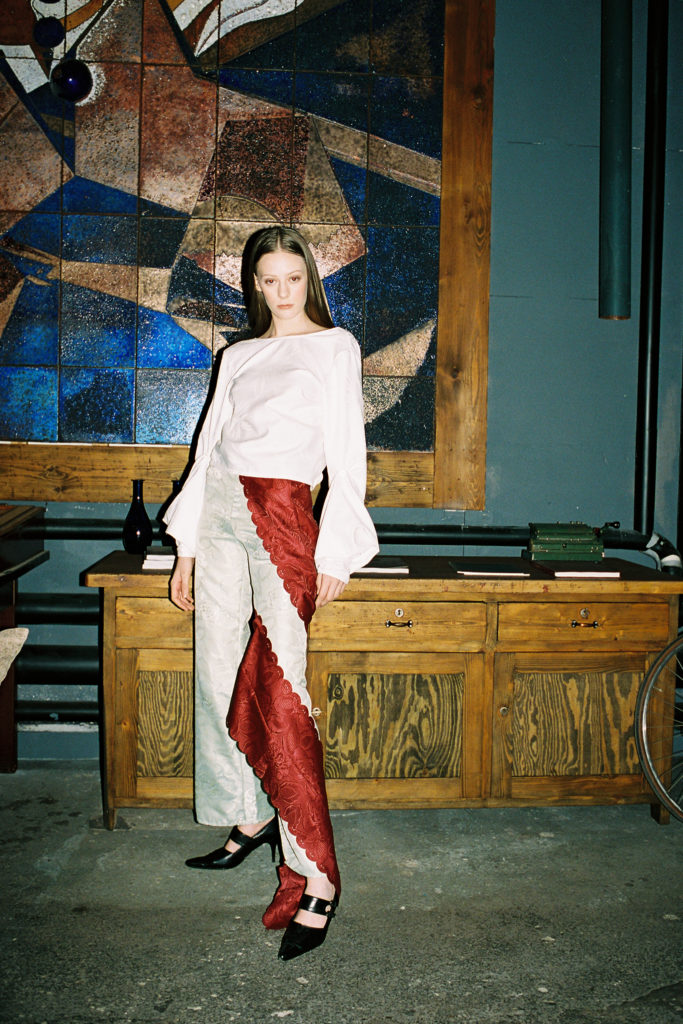 LIVING ROOMS
For my Bachelor degree, graduating from Universität der künste Berlin 2020, I have created the collection "Living Rooms". An artistic work where I critically have been looking at the future of fashion, while at the same time learning from the past by researching historical examples of "Do it yourself" culture. "Do it yourself" or DIY has in past practises often been utilized in times of crisis. Such as during, after or in between wars or when the safety and structure in a society has been challenged or taken away. During unstable economies where people have been living with limited financial resources seeking creative solutions to make their own products. Times alike the crises we are faced with today. We live in a reality where our future is uncertain and extraordinary unpredictable. 
These unconventional times enforces us to do things differently than the way that we have done things before. The resourceful attitude derived from "Do it yourself" culture was my main inspiration creating my Bachelor collection. By applying sustainable material solutions, I wanted to explore the possibilities of renewing the existing system of garment production. Taking discarded interior textiles as my starting point. The collection is titled "Living Rooms," owing to the fact that the garments are produced using post consumer textile waste from interior textiles. In my design concept, I give these pre-used interior textiles new value by placing them in new "rooms," in the sense that they are transformed from discarded interior textile into high fashion garments. 
In this way, I achieved to prolong the lives of these pre-owned textiles by giving them the opportunity to re-enter the fashion system. These are materials that most likely would have had piled up on the mountains of landfills together with the already million tons of discarded textiles. Releasing methane emissions into the air, causing toxic pollution of the groundwater and harming our environment. By taking these rejected materials and giving them new life and new value, I wanted to raise the question of what we value within fashion and how we can change our ways of thinking about how we consume. A more sustainable fashion industry relies on us using already existing materials, eliminating the problem of textiles in landfills, and reframing the way we value our garments. 
Created in consultation with: Prof. Valeska Schmidt-Thomsen  / Prof. Dr. Ingeborg Harms / KM Lars Paschke




Credits:
Photographer: Lexi Sun
Assistants: Johanna Braun and Dominik Musewitsch
Hair and Makeup: Kateryna Wulff
Models: Jennifer Naval Farwer (M4 Models), Matilda Venter (DSM MGMT), Nadezda Papkovskaya
Location: Urban Industrial Berlin*
Sponsorship: Berliner Stadtmission/ Textilhafen 
*We were very thankful to have had our shoot at the truly unique Urban Industrial Berlin. This is a artistic project with no intentions of neither party to be used commercially.