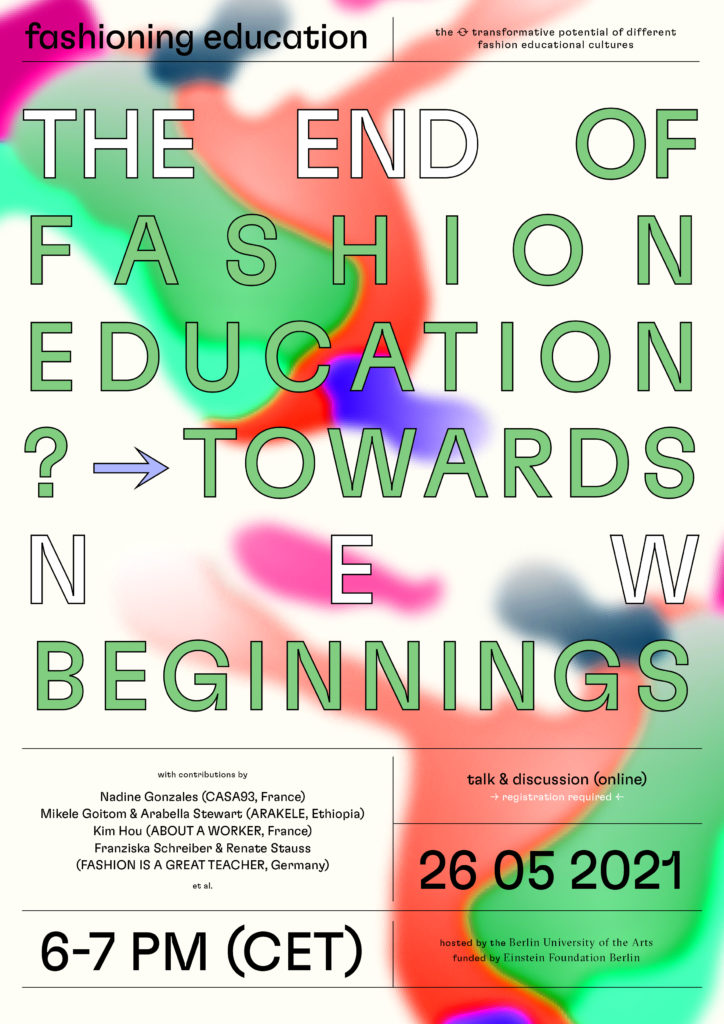 The End of Fashion Education? Towards New Beginnings
26. Mai 2021, 6-7 pm (CET)
Talk & Discussion
Online (registration for Zoom Meeting is required – click here )
with contributions by
Nadine Gonzales (CASA93, France)
Mikele Goitom & Arabella Stewart (ARAKELE, Ethiopia)
Kim Hou (ABOUT A WORKER, France)
Franziska Schreiber & Renate Stauss (FASHION IS A GREAT TEACHER, Germany) et al.
What can fashion education do? – fashioning education is a collaborative research initiative to open, facilitate and formalise the debate on fashion education against the backdrop of global social transformations. It brings together experts and creatives from different fields of fashion related education, research and practice into critical conversation and exploration of the transformative potential of fashion. The initiative seeks to contribute to the reflection, networking and reorientation of fashion education that meets the demands of a sustainable, social and conscious future. The three-year project is supported by the Einstein foundation and jointly led by the colleagues of the Fashion Institute of the Berlin University of the Arts Valeska Schmidt-Thomsen, Franziska Schreiber and Renate Stauss.
With its first public event fashioning education explores the potentials of fashion education beyond the tertiary level. Against the backdrop of some of the fundamental shifts and challenges in fashion education "The End of Fashion Education?
Towards New Beginnings" acknowledges the need for reform and re-orientation in the way fashion is learnt and taught. It invites different perspectives on the positive educational impact: more humane, more social and more collaborative/collective. Nadine Gonzales of Casa93, Paris (France) and Mikele Goitom & Arabella Stewart of Arakele, Addis Ababa (Ethiopia), Kim Hou, ABOUT A WORKER, Paris, France (ABOUT A WORKER is a design studio, creative factory and a platform for the actors of the creation and production scene to meet, reflect and build inclusively on possible scenarios for the future of the industry. It is by co-led by the design graduates Kim Hou and Paul Boulenger. Their mission is to give workers a voice, to expose their conditions, to value their craft abilities and creative talents by using design), Franziska Schreiber & Renate Stauss of Fashion is a great teacher (Germany) will introduce their respective work. Their talks will be followed by a public conversation.
Please join fashioning education and spread the word.
We look forward to seeing you!
The event is hosted by the Berlin University of the Arts and funded by Einstein Foundation Berlin.
more information
www.fashioningeducation.udk-berlin.de