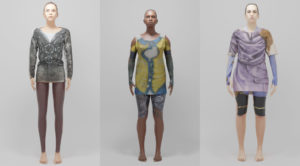 © Camilla Volbert
If //  WS 20/21  //  Design project starting from 5th Semester
The end of studies is the beginning of a new phase of life.
Who do we want to attract?   What do we want to achieve?   How and where do we want to design?   What else do we have to learn?
In the design project "if" we dealt specifically with questions and issues of freshly graduated designers in the current fashion industry. In order to better define those, the project participants were accompanied in their design process by professional godmothers from the fashion industry, in addition to the teachers. Those, alumni of the UdK, gave insights into their daily work as designers, told about hurdles and moments of happiness, shared their experiences and were open to practical and theoretical questions. The design tasks were set individually and dealt specifically with the everyday work of self-employed / freelance or employed designers. In addition to the task of designing outfits, research and the development of one's own vision were central.
Lecturer: Prof. Valeska Schmidt-Thomsen, KM Evelyn Sitter, Stefan Hipp, Dorothée Warning

//  Lisbeth Luzie Richter & L M "Dirk S. — 03:47:25 Std"
Supported by Kasia Kucharska, André Törner, Wanda Wollinsky & Thies Meyer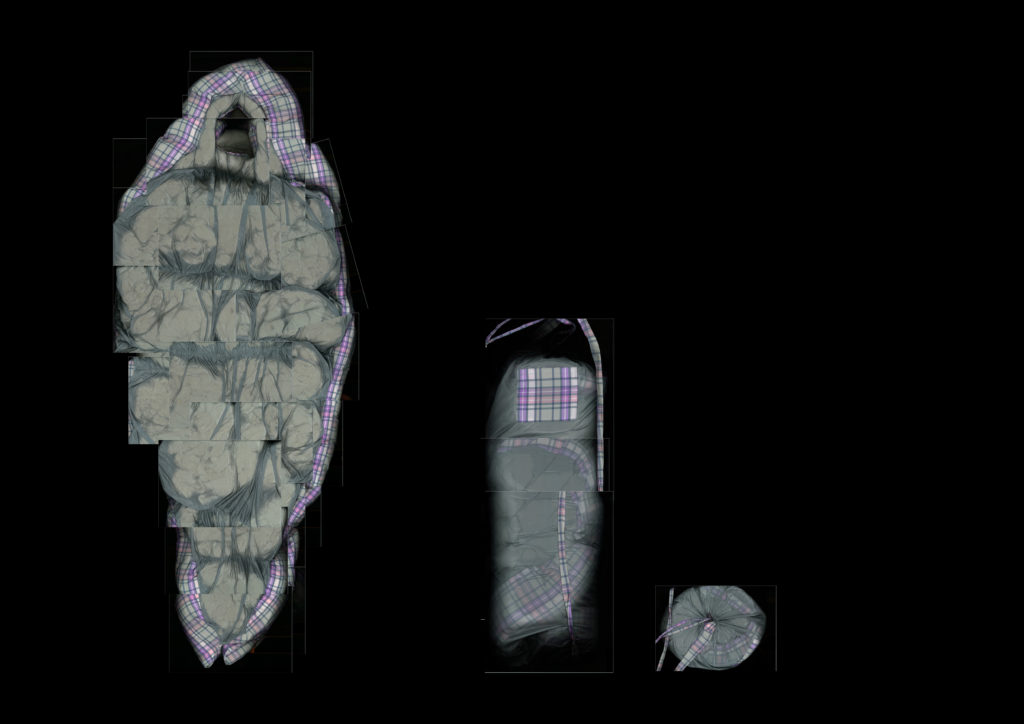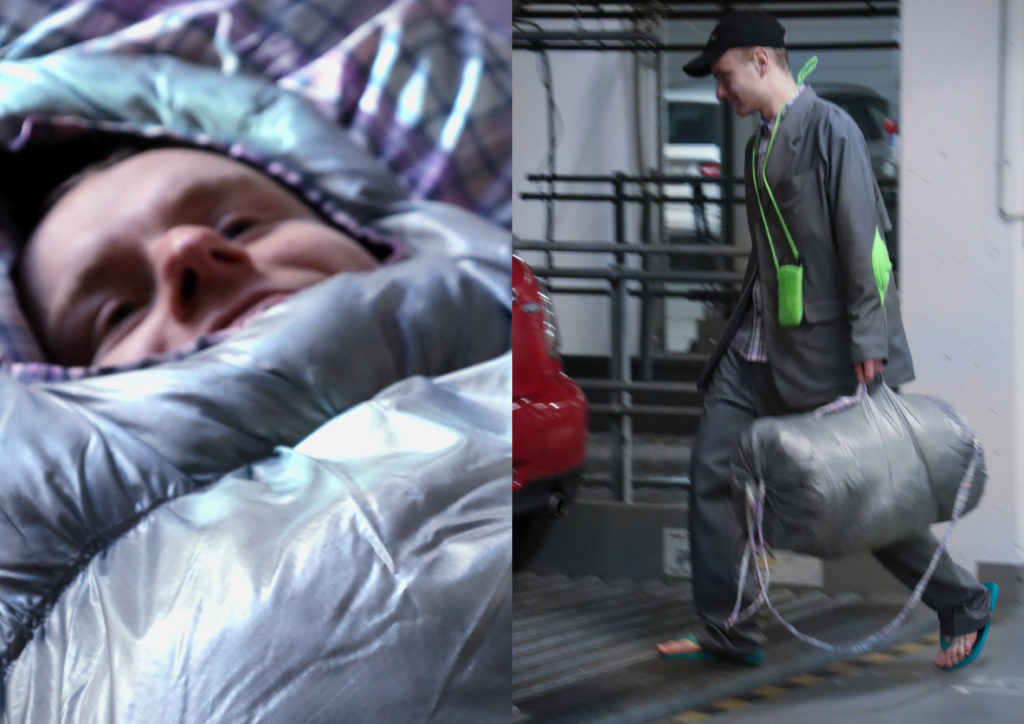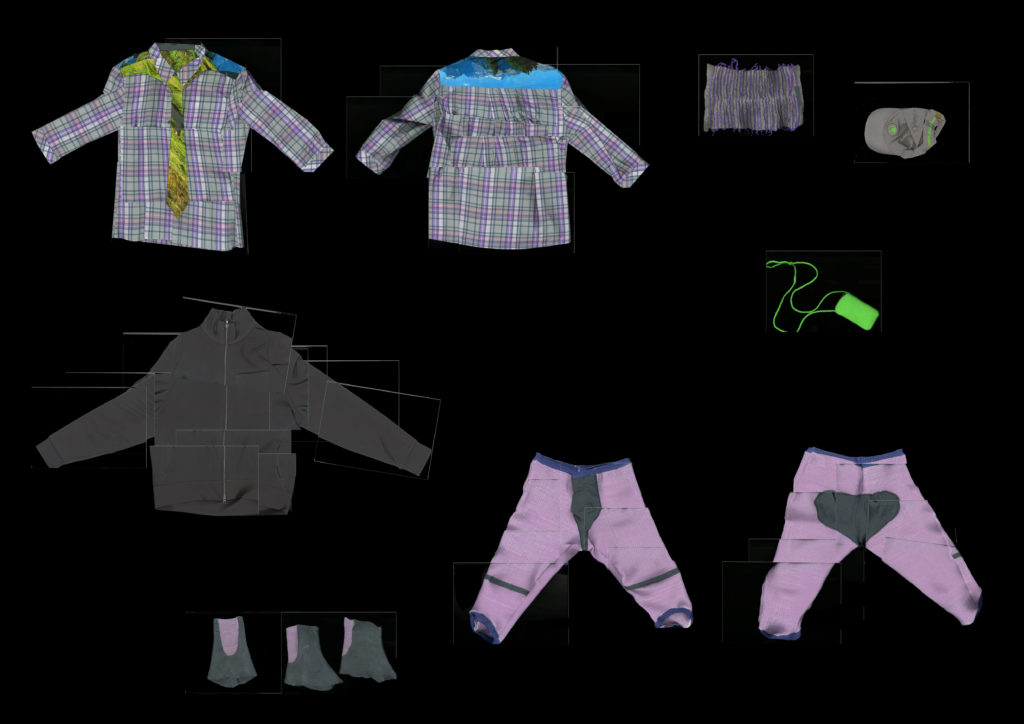 ´Heroic figures with a provider complex who, in an almost military pose, bring prosperity into the country – above all, of course, into their own families, to whom the fortune is subsequently bequeathed. …' *[1]
It is about the construction of "nature", middle aged men, sports, business and appropriated esoterics.
An attempt to create an image of almost ∞-infinite desire.
And an approach for a liminal space for reflection and transformation.
thanks to Jim E. and Konrad K.
good job team
*[1] "Heldenhafte Unternehmner"; by Jim Elmer; 30.11.2020; Frankfurter Rundschau, fr.de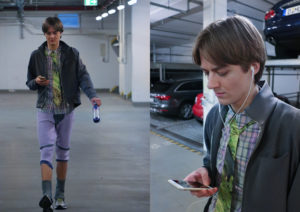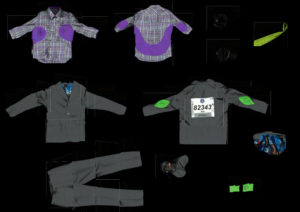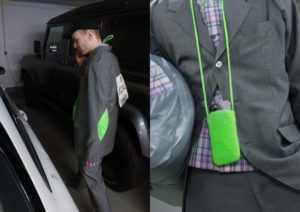 //  Camilla Volbert  "More or less successful re-editions of archive ideas"
Supported by Julian Zigerli
While it may seem like big brands and designers make a fortune by selling extravagant runway looks, it is a well-known fact to anyone in the industry that it is extremely difficult to make a profit with those collections. Luxury fashion brands stage lavish shows with expensive looks to create a fictional narrative for the rich and the wannabe rich, the bold and the conservative. In the end it is an investment necessary to sell high priced monogram bags, t-shirts and perfumes.
As the race for the 'newest' designs and trends gets faster and faster and it is becoming increasingly difficult to gain the consumer's attraction, brands are turning to archive ideas and copying small designers. Big luxury brands cannot be understood as design brands but as marketing companies. To compete against luxury and fast fashion brands small designers are forced to play the same fictional game in an industry that is one of today's biggest polluter.
By using body paint, shirts, socks and accessories I want to rewrite the story of competition, success and authenticity in fashion from a designer's perspective. Appropriating my own and other small designer's ideas, I am generating new products to satisfy our desire for newness without any intention of originality.
Designs copied from Alexandru Plesco, Frederik Britzlmair and my own archive collections.
Modelled by Teddy The Bear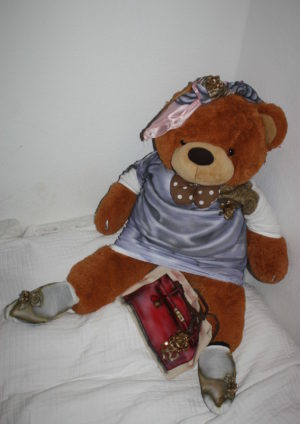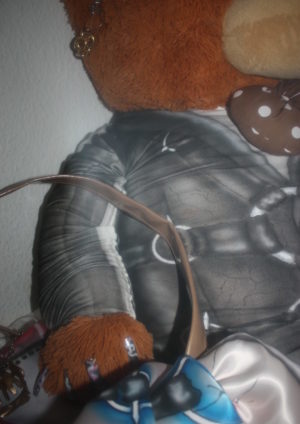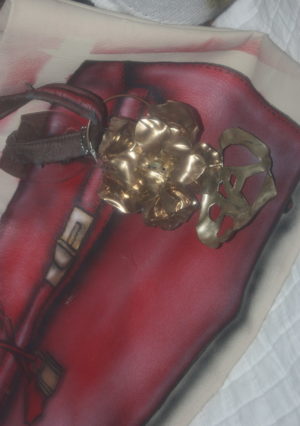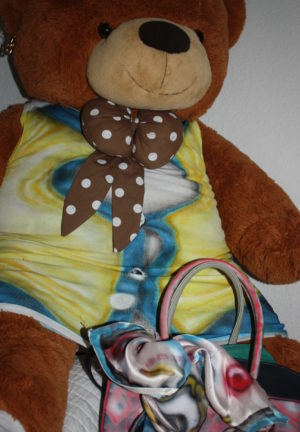 //  Maike Lauber "Über_s_ unterwinden"
Supported by Sibel Celik
Waterproof and recycling/ Water resistant/ we expect protection from the outside/ don't want to be hit by the rain, the drops find their way/ if not, they don't search but create/ not outside of/ but under the protection/ On the skin/ through the skin/ can you protect yourself from water/ under the skin?/ Drops/ too salty/ out of sight/ and pores/ Make skin waterproof?/ I don't want everything hermetically sealed./ Is a function still a function if it only works halfway?/ Waterproof, water-repellent/ Is repellent for the fact that there are outside and inside separated?/ Recycling/ The internet praises/ different parts/ Interwoven sequences/ Individual parts meet, peel themselves/ on the ground/ The irony ignored/ I want to work with something new that becomes/ just the refuse/ worthless in recycling/ the cable sheaths, criss-crossed with threads, silver, cables, opulence? put together?/ Firmly/ but/ Not/ solid.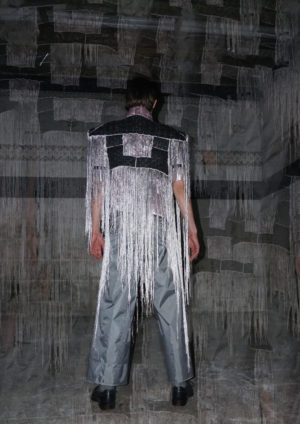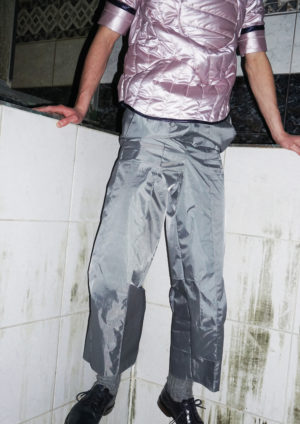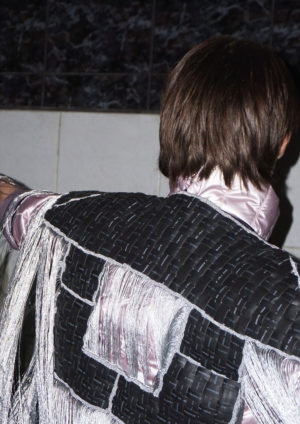 //  Clara Bageac "IF: DESIGN SYMBIOSIS"
Supported by Nan Li
The aim of this project is to explore different ways of involving the customer in the design process by switching its position from passive recipient to an active participant; from consumer to creator.
Based on this, I developed an open answer questionnaire where participants intuitively choose visually attractive elements and upload their personal pictures with things they like. The results generate a moodboard, which is the starting point of the design process. The participants stay involved in the design phase through small quizzes, giving them the chance to make their own decisions regarding the garments style, fit, fabric manipulation, etc. Thus, the designer becomes a co-creator, a orchestrator, guiding the customer through the design process.
//  Fanny Freundner "Fragile Suits Of Armor"
Supported by Henning Jurke
For this project I experimented with the use of paper in context of clothing, inspired by the black punk leather jackets, where clothing becomes an information carrier through writings and embellishments on the leather. Political statements are written on the jacket and conveyed to the public by its wearer, like on cardboard signs of demonstrators. A leather jacket is almost inextricably linked with its animal material. It triggers certain associations in its wearer, that have been reproduced through films and several subcultures over and over again.
I want to keep the character of leather jackets while using a different material like paper, because it is the easiest and familiar way to make information visible. Through processing paper with textile crafting techniques such as knitting, weaving, sewing or dyeing I looked for different aesthetics, which leads away from using animal materials.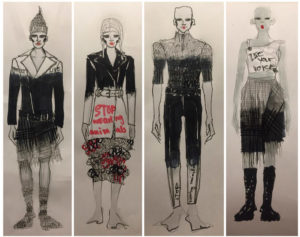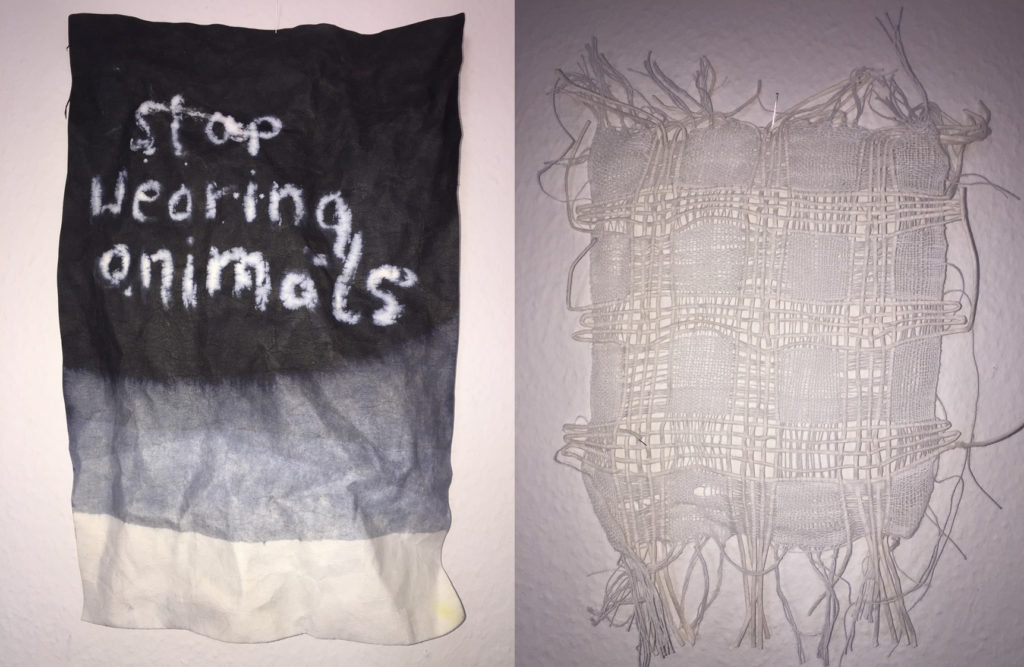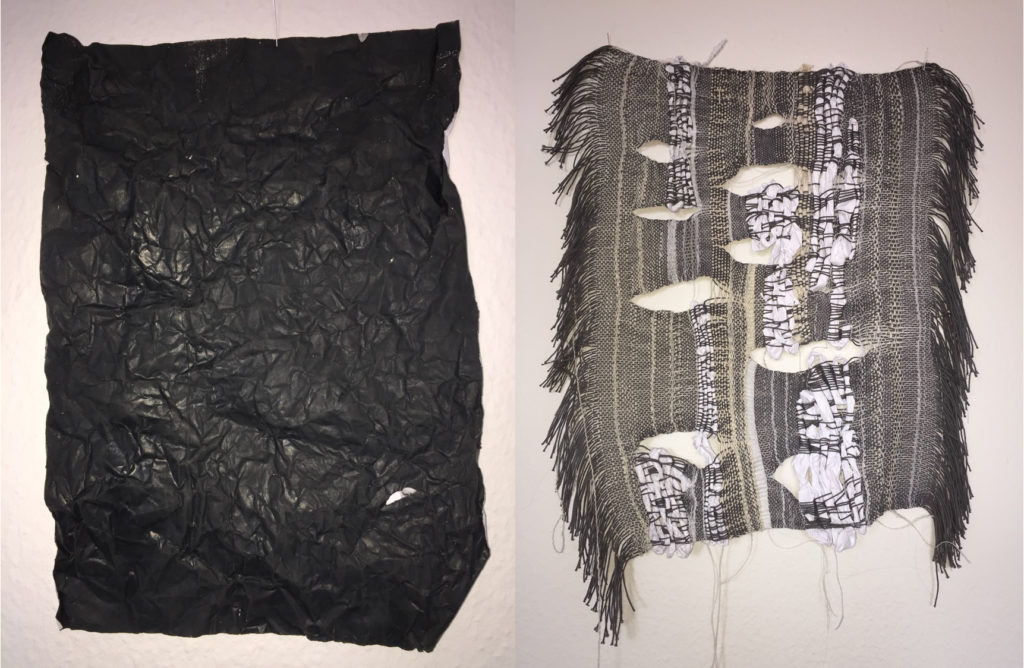 // Sezgin Kivrim "Sabahtan Aksama"
Supported by Janosch Mallwitz
 From day to the evening started with a basic conversation about lux. What is lux, who enjoys lux, is lux even real? This project deals with lux lived by fictional rich families from Turkish soap operas. Comparing three series 'Ask-i Memnu (2008-2010)','Medcezir (2013-2015)' and 'Yüksek Sosyete (2016)', typical behavior of rich people was tried to distinguish and collect in order to be translated into the outfits.
Beginning the day with decisions about what to wear, wearing a suit all day long, dressing up for dinner, not to be mistaken for a night event and going to bed in the most elegant dress, sabahtan aksama pictures a cliche day full of lux.
//  Maurice Gerlach "C03E "
Supported by Mads Dinesen
My project consisted of an individual task that was worked out with the help of alumni Mads Dinesen. In this I first dealt a lot with myself and worked out and deepened my characteristics, inspiration and provocation. I tried to incorporate these into my work. My project initially consisted of a freelance drapage work in which I tried to put together as many pieces of fabric as possible and to move away from standardized fashion in order to work with abstractness. The second part of my project work consisted in the construction of two outfits. I chose a hoodie with pants and a skirt with an additional top. For these outfits, I worked with padding and embroidery in order to achieve a coherent overall effect with detailed work.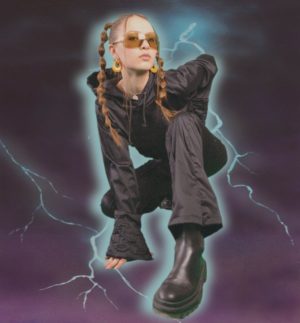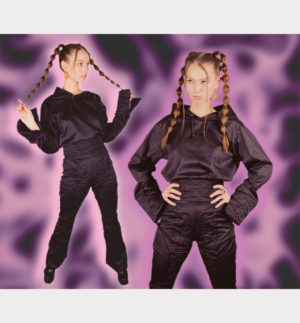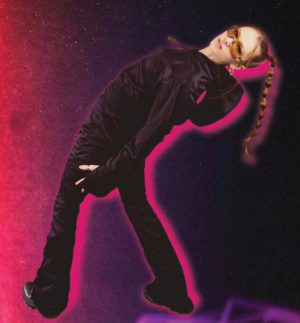 //  Alex Hein "L GENRE C'EST MOI"
Supported by Sarah Effenberger
Based on the task given…
I asked myself
Who is a gender fluid personality
Seen in time, was gender fluidity a topic
When became fashion less outstanding
Where is sensitivity in our nowadays fashion
How to build bridges of the old and new.
Based on the task given … I imagine Ludwig XIV is back in the 21st century. In Berlin, a raving atmosphere, hedonistic and liberating. Also thrown in a discussion beyond french court, where the expression through fashion of gender where equally excessive. How to survive in that versaillelike but completely different surrounding turning the Sun King into the Queen of the Night.
Based on the task given … I created an outfit that represented the old gender fluid celebrating time of the late baroque and the modern Berlin club scene. The aim was to be genderless and historic, modern and sensual in one. It was about a shapeless silhouette, vanishing away in the darkness of the Berlin club scene but still being outstanding and visual  by dressing up to the nines. A play of hide and seek, to find your missing identity.