direct to:
PROJECTS
     – for buildings
     – for behaviour
     – for public space
     – for streets
VISITORS
VISIT
online design project:
for 3. semester and up, incl. MA anpassungsstudium
Supervision:
– Prof. Ineke Hans
– KM Maciej Chmara
Visiting Lecturers:
– LB Ottonie von Roeder (concepts)
– Alexandre Humbert (film)
Cooperationpartners / external advisors:
– Lynn Harles (Fraunhofer CeRRI)
– Anouk Haller & Naho Iguchi (NionBerlin)
Provided:
– a a random reading list
– a trailer
– a  documentary on Anthropocene
Participants:
Anna-Maria Argmann, Skarlett Balta Cisneros, Esther Betz, Lukas Dilger, Roya Haupt, Gloriana Valverde, Hendrik Lucka, Sebastian, Müller-Tiburtius, Kathatina Sauter, Lilli Kern, Alma Abrahamson, Huseyin Altin, Yali Paz, Omri Ron, Dominique Bertisch, Kim Kühl
FIND a FACT & ACT: water & weather, flora & fauna
The Anthropocene is a proposed geological era dating from the start of significant human impact on earth's geology and ecosystems including climate change. Man decides how rivers flow, where agricultural crops grow, and what 'untouched nature' can remain. Fossilized plant remains that have been stored in the soil for millions of years are excavated and burned en masse.
How do we deal with nature? In the anthropocene we mix it up: Farmland is sprayed with pesticides and bees find a better refuge in the city where flowers thrive without it. In cities surfaces have been paved and sealed, so that rainwater no longer finds its way to the flora and fauna that depend on it.
How can we mix with our environment in a way that it helps nature instead of hurting it?
In this project we work with established facts as starting point for a project with positive impact.
We focus on  the city: the roofs, the yards, the streets and how natural elements such as water & weather impact our society, flora & fauna. What are  the facts? To find them we visit exhibitions and have introductions by a number of researchers and practitioners from Fraunhofer Institute and Nionhaus Berlin. They will also advise on contacts and how to ensure that your act has the right impact.

a view from the roof at
Nionhaus Berlin-Neukölln >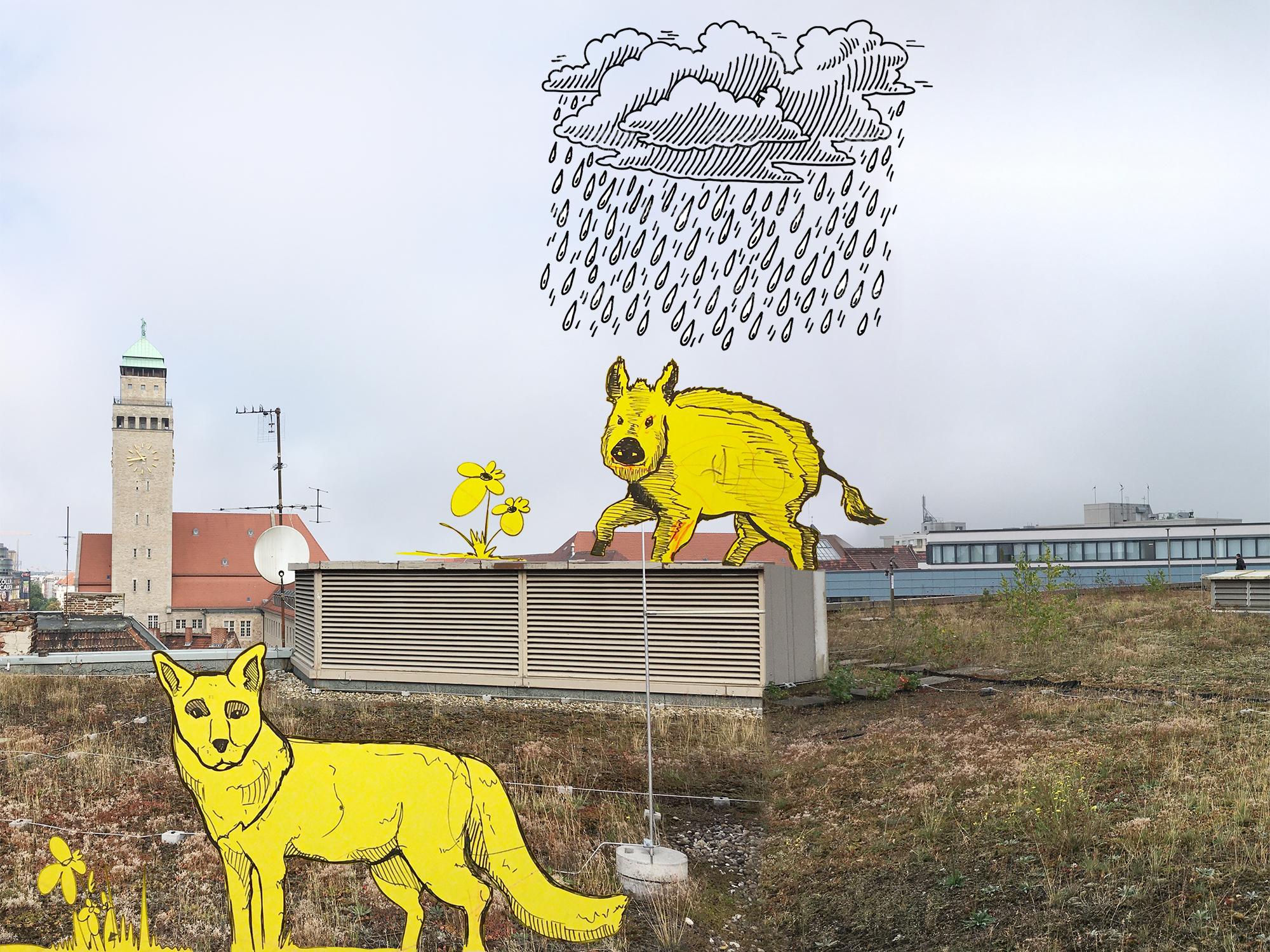 ---